Selecting who represents you in any court of competent jurisdiction matters. Knowing the kind of lawyer who would speak on your behalf is crucial in getting your legal issues resolved. At the end of the day seeking justice depends on the level of representation you have that will fight on your behalf and ensure that your rights are protected.
This simply means having proper legal representation makes all the difference. It helps in determining a favorable outcome in any case because lawyers are trained in the rudiments of the law to argue on your behalf. That is why you should not take it for granted to obtain quality and experienced legal representation when faced with a crisis or a life altering decision that could have an indelible mark on your life.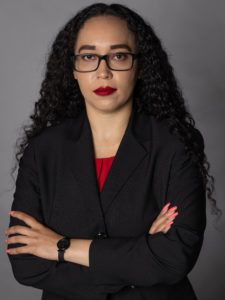 Tina M. Patterson, Esq., the Principal Attorney of Patterson Justice Counsel, PLLC, brings that level of diligent and professional expertise and high degree of ethics to any case she takes on. With a commitment to represent the best interests of her clients, Patterson, a trained lawyer, is licensed to practice in the state of Michigan and Eastern District of Michigan, Federal Court.
Attorney Patterson understands the inner workings of the legal system based on her extensive work history in the public sector, including as a federal government attorney with the Social Security Administration (SSA), where she wrote legally binding decisions for administrative law judges throughout the United States and Puerto Rico. With invaluable insight and experience into the inner workings of the federal and local judiciary system, Patterson knows how to litigate cases that would otherwise confuse and deter individuals from pursuing justice.
In private practice, Attorney Patterson's work has centered around using the power of the legal system in helping individuals and families overcome challenges that are sometimes deemed insurmountable. Attorney Patterson has assisted clients in navigating various roads of the legal system, securing benefits and seeking justice for wrongfully aggrieved clients in the court system.
Patterson has represented indigent defendants at the trial and appellate levels, and has seen up close the challenges of these individuals, some of whom through no fault of their own are entangled in a legal spider web, where they are left hanging on the legal margins of society. As a staunch advocate committed to providing relief for these individuals, who are often faced with no real legal recourse with their lives on the crucible of crushing under the weight of the legal system, Patterson has successfully intervened and provided the relief that they need. That includes successfully helping her clients remove criminal convictions, ensuring clients obtain significant employment and housing opportunities that were previously denied, and aiding clients in securing benefits and navigating the bureaucracy of government.